Rhinestones are taking over all kind of garments reaching the most casual styles
Discover our new applique related to this trend!
Do you know more about it?
¡Keep reading this article and ask for your samples!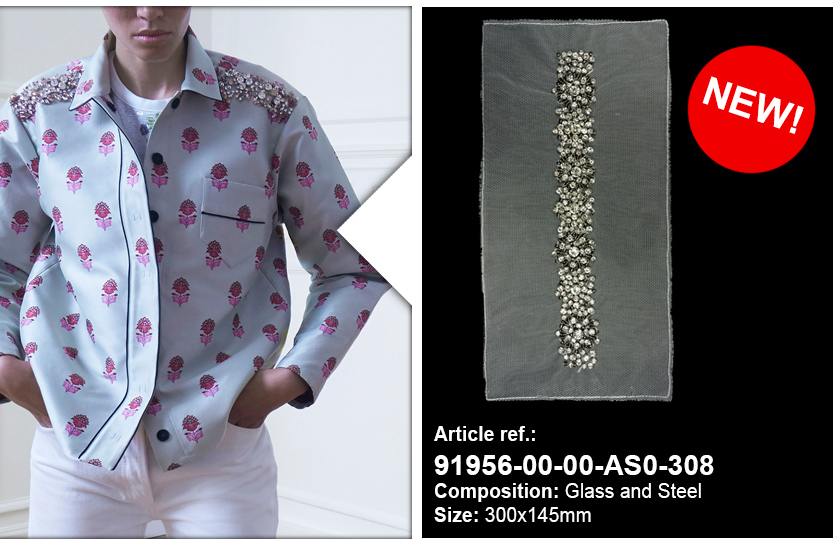 In previous seasons, rhinestones were already an essential accessory for party clothing, but it is also true that, more and more, they have been taking street style over. Over several season, we have been launching different items, individual flowers appliques and other appliques styles, more invasive and easily applicable by means of Hot-fix.

Thanks to this incursion, the fact that rhinestones are essential elements to be applied to all kind of casual outfits such us jackets, shirts, trousers and everyday dresses is increasingly normalized.

The brightness radiating from rhinestones attracts the attention and succeeds in all audiences, both, young and old, female or male, and even it is suitable for all seasons, spring, summer, autumn and winter.

Our new applique, with a modest form but empowered with a rich design, is adaptable to any garment, no matter how basic they are and makes them a must-have that will not leave you indifferent.

If you want your collections to stand out in the next season, apply rhinestones to them, they will be the star trend in all areas of fashion! And with our new applique we make it possible. Contact us for more information or directly ask for samples.

In addition, we take the opportunity to invite you to discover all our accessories and ornaments applicable to garments, and in particular to the other rhinestone's styles.

We are constantly adding new items to our catalogue in tune with the latest fashion trends and even anticipating them. If you want to be up to date with all our news, you can follow us on Facebook or Linkedin and even request to subscribe to our Newsletter.